Food Trucks in America
Food trucks have been around for a long time. In fact, food trucks have been part of the American scene since 1866 when an enterprising Texan took an old US Army wagon and equipped it to serve food to cowboys on the cattle drives out west. It became known as the chuck "wagon". The invention of motorized vehicles is what transformed chuck wagons and the old pushcarts that used to ply the streets of large cities like New York and Chicago into the actual food trucks that we know today.
During World War I the US Army used trucks as mobile canteens at bases throughout the country and the modern day food truck was born. The first commercial use of mobile food on a large scale basis in the USA came with the advent of ice cream trucks in the 1950s; some of which are still on the road. In the 1960s, "roach coaches", so called because of their lack of sanitary methods began to appear at construction sites and industrial plants to feed sandwiches to blue collar workers who were brave enough to eat from them.
(Editor's Note: Next month NWI Entertainer magazine will feature a complete history of food trucks in America.)
But the food truck as we know it today, with sanitary kitchens to prepare food from scratch, with an infinite variety of offerings from burgers to ethnic dishes to gourmet food, really didn't explode onto the national scene until after the year 2000. Now food trucks are a standard fare at festivals and carnivals and other events, so much so that food trucks are today a $1.2 billion dollar industry.
Bringing it to Northwest Indiana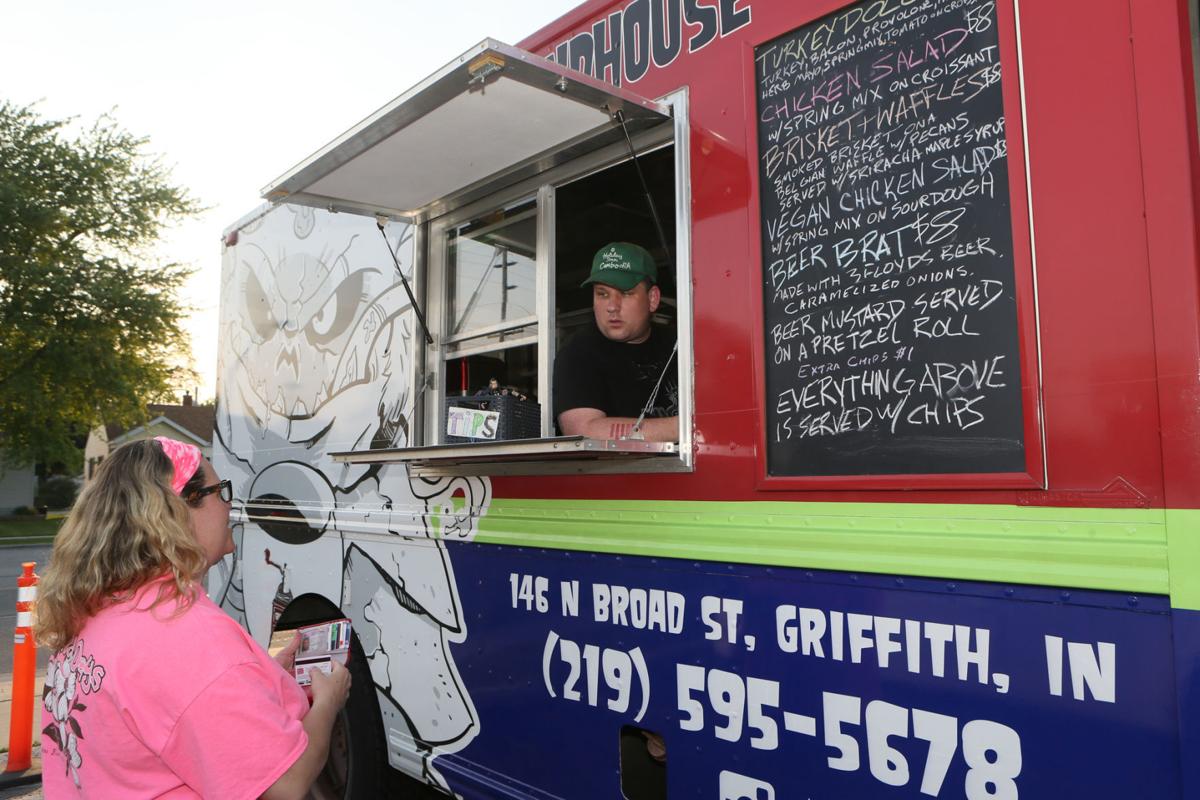 Food trucks have become so popular today that an event isn't complete without them. In fact, food trucks are an event unto themselves; and that is just what is going to happen on Saturday, June 17th in Portage when the inaugural Northwest Indiana Food Truck Festival will take place. Rain or shine, the festival will take place at Founders Square Park, right behind the new police station from 11:00 am until 9:00 pm and the event promises to be a miniature Northwest Indiana food truck version of the annual "Taste of Chicago".
The event is the brainchild of Monica Jimenez-Susoreny, the President of Jump Start PR, a Valparaiso public relations firm. "I do a lot of work with food trucks, and I was talking one day with Bill Hazel (the owner of Bill's Grill Mobile BBQ)," said Jimenez-Susoreny. "And I mentioned that Chicago has a fest like this, so why don't we put all the most sought after food trucks in the Region together for a unique one-of-a-kind experience for those who attend?"
"So we thought outside the box. The result is that besides your live entertainment we are also going to have zip lining, rock climbing, a splash pad, a bouncy house and a game truck there." The inaugural Northwest Indiana Food Truck Festival will also have a beer, wine, sangria and mimosa garden, and the entertainment will feature DJ Chef, the Cutthroat Kitchen Champion from the Food Network, who will DJ and also provide food demonstrations.
"Why couldn't we bring everyone in Lake and Porter counties together for a fun, family friendly event?"


- Monica Jimenez-Susoreny.
The game truck will feature Nintendo, X Box, Halo and Minecraft games and can accommodate 28 people at a time who can compete for prizes. Some of the 23 Indiana food trucks that will be on hand are the Sizzle Box, Bill's Mobile BBQ, The Cheesy Truck, Dogs N Hogs, Chesa's Gluten Tootin Free, Grindhouse Café, Iscream N Cookies, Lulu's Licks, The Cajun Connoisseur Food Truck, Mother TruckN Good Food Truck, Peace Love and Grub, Mother Wilmas Marshmallow Factory, Da Portable Rican, Flying Taco's, the Pierogi Wagon and more. There will also be some out of state food trucks on hand as well, and at least ten other food trucks are on a waiting list hoping to get in.
With so many diverse taste treats available, the festival is sure to have something to appeal to everyone's tastes and should be fun for all ages. For comfort, the public is welcome to bring their own lawn chairs to the fest, although picnic tables and other seating will be available throughout the venue.
For tickets and other information about the inaugural Northwest Indiana Food Truck Festival, you can visit the festival's website at www.nwifoodtruckfest.com or you can also visit the festival's page on Facebook. A large crowd is expected so pre-purchasing tickets is encouraged.
General admission tickets are $7.00, and include designated parking, a non-alcoholic beverage and guaranteed entrance into the fest without having to wait in line. A pre-purchased fest ticket also guarantees attendees the opportunity to purchase wristbands to the family friendly entertainment area and to the beer, wine, sangria and mimosa garden.
Bring the kids because children under 13 will be admitted free of charge. However, leave your pets at home because no pets will be allowed on the festival grounds. No coolers, outside food or outside beverages will be allowed either.
Founders Square Park is located at 6300 Founders Square in Portage, Indiana.